I'm pleased to share Voices Echo is now available at all major online retailers. The third book in the Voices series, Voices Echo stands alone as a riveting depiction of both the beauty of 18th-century Jamaica and the horrors of plantation life in the British West Indies.
Here's an excerpt: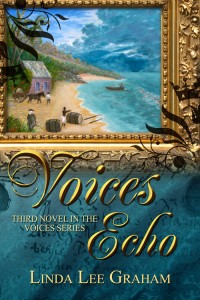 Someone was in her room. And not the duppy her maid had prophesied, either. By Rhiannon's understanding, weightless apparitions did not cause floor boards to groan.
Feigning sleep, she breathed a soft sigh and rolled to her stomach, snaking her right hand beneath her pillow until she touched the smooth glass bottle. She wrapped her fingers around its neck, her grip strong and sure. As well it should be; she'd practiced the move countless times in the light of day.
The temptation to open her eyes was strong. She resisted. Instead, she listened.
She heard the candle's spitting hiss as the sea breeze bent its flame into a hot pool of melting wax—the candle she had snuffed hours ago.
Set on a sugar plantation in 1791 Jamaica, Voices Echo is Liam and Rhee's story.