Early coffeepots were designed to hold only a cup or two of coffee. It was only once coffee became less expensive and easy to obtain that the pots increased in size.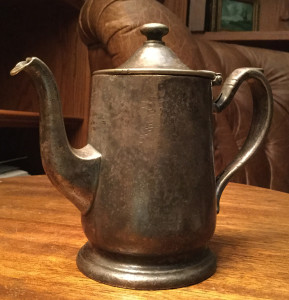 The gem pictured (figuratively speaking—you can find one similar on eBay for under $10) is an example of an early American coffeepot, one  unsuitable  for the mega-mug laden tables of today.
Used as a carafe, it holds only eight ounces.  It was manufactured by the Derby Silver Company, a company founded in the late nineteenth century and noted for its extensive assortment of silver plated toilet ware.
In 1898 the Derby Silver Company merged with the International Silver Company, a consortium of New England silversmiths. It began production on a less expensive line of plated hollowware under the trademark "Victor Silver Plate Company."
Robert Novak Jr. wrote in the Huntington Herald that when the "demand for silver fell during the Depression, the Derby Silver Company began turning out lower cost pewter ware. "The factory manager took the "chief designer to New York museums to copy some of the designs used by Paul Revere.1"
This piece carries the trademark "Victor S Co," a mark used after 1922 by the International Silver Company. It is electro-plated nickel silver, which is nickel silver2  electrolytically  coated with a thin layer of pure or sterling silver.
Its parts were silver soldered to withstand commercial use, and the Hotel Lafayette stamp indicates that it was from a line of hotel ware.
It may be cheap, but I think it's lovely. I can  easily picture Liam Brock and Rhiannon Ross sharing a similar carafe at Mrs. Grayton's parlor in Voices Whisper.
---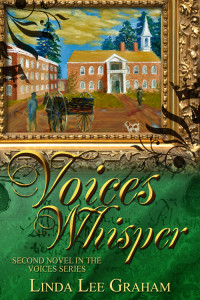 "Join me for coffee, ma'am?" Liam asked.
"Another time, perhaps. Elisabeth is expecting me."
He steered her off the step and out the door, closing it behind him. "Not at the moment, she's not. If ye tread up those stairs, I'll forfeit my take." He held up a coin. "Davey gave it to me, so as I'd make myself scarce for the next hour or so enjoying a cup at the Coffee House. Come, I'll share my good fortune."
Rhee frowned, yanking her arm from his grasp as she looked up at the townhouse window. He knew immediately when she came to understanding, for a faint flush spread across that lush display of bosom and crept up her slender neck, and a smile replaced the frown, an impish gleam shining in her clear green eyes. "Perhaps I could obtain another coin, and we could enjoy something sweet with our coffee?"
"Now, lass, don't be greedy. He's my mate, ken?" He took her elbow and started walking. Though the Coffee House would no longer do, Mrs. Grayton's parlor certainly would. She stocked it afresh each morning with the best the markets had to offer. While she catered primarily to her lodgers, she never hesitated to welcome him as well once she found he could match her store of rumor tit for tat.
"I'll buy ye something sweet myself, seeing as how ye're no longer sniping at me."
"I never sniped at you, Mr. Brock."
"Oh, aye, ye did. And often it was, as well." He gave a brief knock on the door, then held it open for Rhee to follow through. 
---
1 Robert Novak Jr., "Remembering the Derby Silver Company," Huntington Herald, accessed January 9, 2016, http://derbyhistorical.org/derby_silver_company.htm.
2 Nickle silver is an alloy of copper, zinc, and nickel.